I think the Pina Colada Fruit Salad could benefit from a nice firm, ripe banana, but t'would have to be added right before serving. A cup or so of miniature marshmallows would soak up some of the liquid as well. A little shredded coconut, maybe ...
I love croutons. Of course I love nearly all crunchy things. I get dibs on the corners of all things baked. I give the middle of cornbread and biscuits to the dog. Homemade croutons are simple to make but do take up more time than store bought, especially if you're already grocery shopping.
But, they are very expensive and may not be as delicious as the message on the box says. Nor as fresh.
Several years ago, I'm sure I made poppy seed chicken often. I forgot all about it until I was visiting a 1980s era cookbook recently.
I substituted cream of chicken soup with herbs for the plain cream of chicken and added more Ritz to the top.
Delicious enough for the daughter's good-looking boyfriend, I'd say.
Another recipe I've made a few warsh tubs full of is six-week muffins. I resisted the recipe for years. I didn't think I wanted anything that set in the fridge for six weeks.
By substituting Raisin Bran Crunch cereal for plain Raisin Bran, adding good vanilla extract and using whole buttermilk, you have a very tasty, freshly baked, healthy muffin for a grab-and-go breakfast, school lunch box, after-school snack or a summer picnic.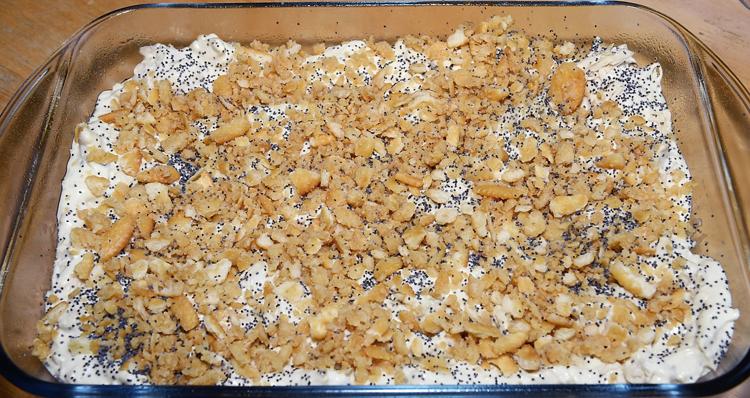 Poppy seed chicken
1 (10 3/4 ounce) can cream of mushroom soup
1 (10 3/4 ounce) can cream of chicken soup with herbs
4-5 cups cooked chicken in bite size pieces
1 1/2 stacks Ritz crackers, roughly crushed
2 tablespoons poppy seeds
Preheat oven to 350 degrees. Spray a 9x13-inch baking dish with Pam. In a large bowl, mix soups, sour cream and half and half until smooth. Stir in chicken. Mix well. Spread chicken mixture evenly in the prepared pan.
In a medium bowl, mix crackers, melted butter and poppy seeds. Sprinkle evenly over chicken. Bake until bubbly and crackers are lightly browned.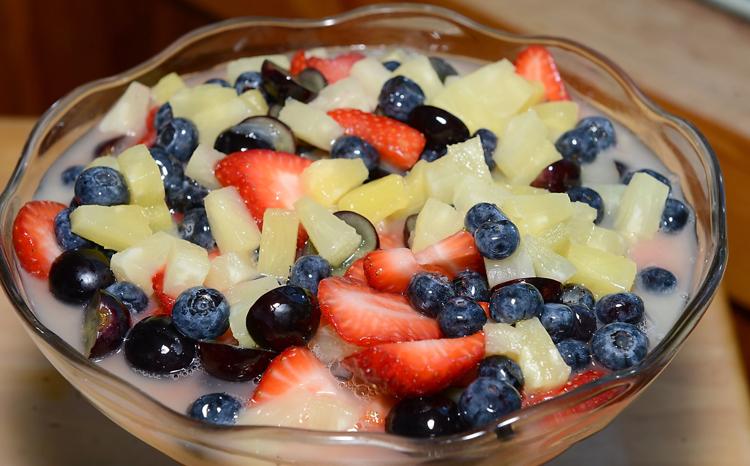 Pina colada fruit salad
3 cups halved seedless grapes, your choice of colors
1 quart strawberries, sliced
1 (20 ounce) can pineapple tidbits, drained, reserve juice
1 1/4 cup pina colada mixer
1/4 cup reserved pineapple juice
1/4 cup freshly squeezed, or bottled orange juice
1/8 teaspoon almond extract
1/8 teaspoon coconut extract
In a large bowl, gently combine fruits. In a medium bowl, whisk together juices, sugar and extracts. Pour juice over fruit. Stir gently. Chill.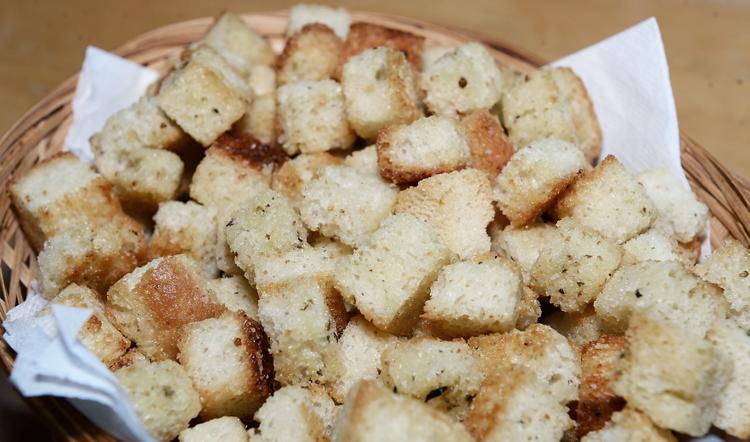 Homemade croutons
6-8 thick slices of day-old bread, cubed
2 tablespoons melted butter
1/2 teaspoon garlic powder
1/2 teaspoon onion powder
1/2 teaspoon dried oregano
Preheat oven to 300 degrees. In a small bowl, mix seasonings in the warm, melted butter. Set aside for a minute or so. In a large bowl gently but thoroughly toss bread cubes with herb mixture.
Spread cubes on a large, rimmed baking sheet. Bake 10-15 minutes, stirring occasionally, until crisp and mostly golden. Cool completely. Store in a sealed bag in the refrigerator. For extra deliciousness, warm ever so slightly before serving with salad or soup.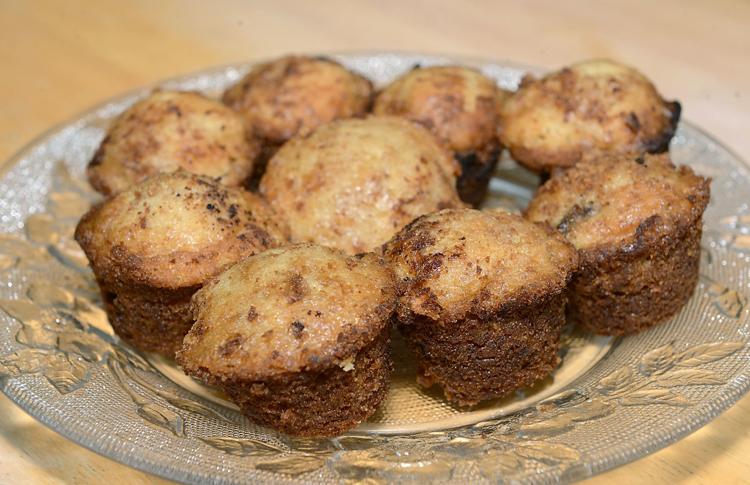 Six-week muffins
2 teaspoons vanilla extract
I (18.2 ounce) box Kellogg's Raisin Bran Crunch
5 cups (20 ounces) all purpose flour
In a very large bowl, whisk together flour, soda and salt. In a very large bowl, whisk together wet ingredients. Add cereal to the dry ingredients and mix gently. Pour wet ingredients into the dry. Mix thoroughly but gently. You don't want to beat up the cereal too much. Cover tightly. Refrigerate 8-10 hours before using. A week is better. Use as needed.
Scoop mixture into desired size, greased muffin tins. Bake in a 375 degree-oven until a cake tester inserted into the center comes out clean, about 12-15 minutes.