Dear fellow cooks, I'm mad again.
You remember my recent hissie fit about cake mixes being reduced to 15.25 ounces. The Duncan Hines feller probably does, too.
Well, one store brand strawberry pie filling and Comstock knows I'm provoked, too.
There were exactly 31 berries, including scraps, in each over-priced can. The rest was red food coloring, cornstarch and water. The store brand customer service person sent me a gift card to cover the cost.
I can't put a gift card in my cake.
Hence, the recipe follows to make your own. More filling, fresher and better tasting.
Wherever you get the strawberry pie filling, you'll love the end result. It's delicious by itself, served warm.
I wasn't sure I'd be able to find pistachio instant pudding mix. Watergate salad was all the rage about a hundred years ago. I never did make it, but I love pistachios.
The recipe is easy, tasty and can be made ahead. You can even use canned frosting, heated enough to be pourable.
And I have no complaints about anything in the cheeseburger nachos. You can certainly make any changes to suit your taste. I do have my mouth set to make my own corn tortillas for the nacho chips sometime soon. I doubt I can improve on store bought, but my flour tortillas are better than store bought, so why not try, at least once.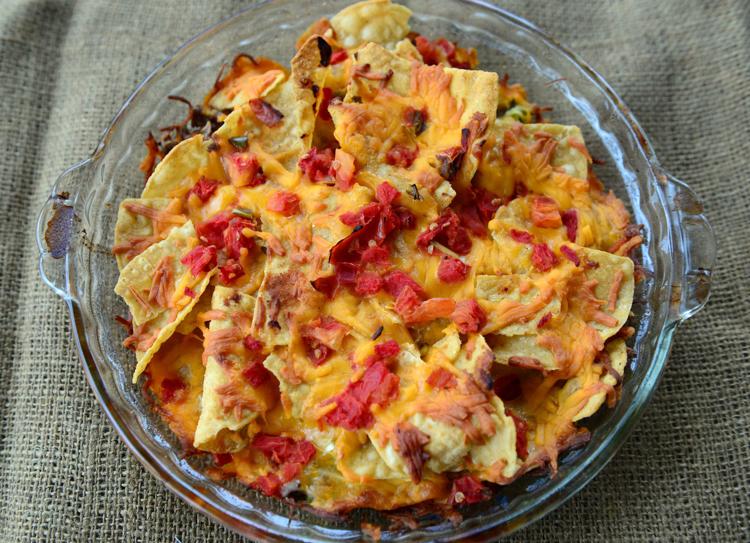 Cheeseburger Nachos
1/2 cup dill pickle relish, drained
1/2 cup finely diced sweet onion
1 jalapeno, seeded, deveined and finely diced
Shredded Mexican cheese blend
Shredded cheddar cheese, optional
1 can Rotel tomatoes, drained
Preheat oven to 350 degrees.
Cook beef, stirring to crumble until no pink shows. Drain if necessary. Keep warm.
In an oven proof deep dish, layer chips, meat, onions, jalapeno, pickle relish, bacon bits and Rotel. Top generously with cheese.
Serve immediately. It is delicious. Eat it all. Left over, it's not that great.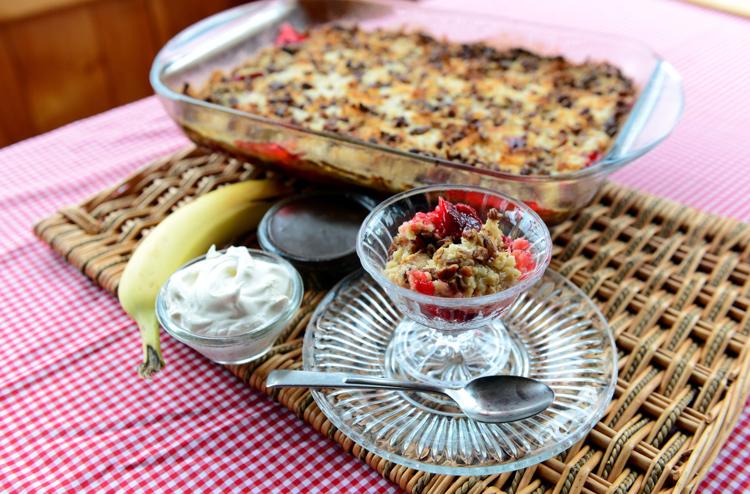 Banana Split Cake
1 can strawberry pie filling
1 (20-ounce) can crushed pineapple, undrained
1 French vanilla cake mix
1 stick cold, cold butter (not frozen)
Maraschino cherries, well drained, optional
Preheat oven to 325 degrees. Spray a 9x13 baking dish with Pam.
Spread strawberry pie filling in the bottom of the prepared pan. Spread pineapple evenly over strawberries.
Sift cake mix into a large bowl. Using a coarse shredder, shred butter into sifted cake mix. Toss with a fork until butter is incorporated into the dry mix.
Spread butter mixture evenly over the pineapple layer. Sprinkle coconut over all and top generously with pecans.
Bake about one hour or until the top is golden and the mixture is bubbly.
Cook's note: Instead of grating, you can simply slice very thin slices of butter over the cake mix if desired. I used my salad shooter.
To serve: Spoon the cake into a small serving bowl, top generously with slices of banana. Drizzle chocolate sauce over the banana. Top with whipped cream and a maraschino cherry.
6 cups fresh strawberries
5-6 drops red food color, optional
Crush enough of the berries to make one cup.
In a two-quart, heavy saucepan, whisk together sugar and cornstarch. Stir in crushed berries and water. Bring to boil, stirring constantly.
Stir in remaining berries.
Add food color (if using.)
Cool completely. Use as desired.(tncms-asset)650324a6-d215-55db-a1e1-36c8f9bfc5ca[0](/tncms-asset)
Pistachio Dessert
1 (3.4 ounce) package pistachio instant pudding mix
1 (3.4 ounce) package French vanilla instant pudding mix
8 ounces extra creamy cool whip, thawed
Combine puddings and milk. Whisk together about one minute. Set aside about five minutes.
Fold in Cool Whip. Refrigerate about five minutes.
Alternate layers of graham crackers and pudding beginning with crackers and ending with pudding.
Sprinkle chopped pistachios on top.
Cover lightly and refrigerate four hours or over night.
Drizzle each serving with sauce.
Use the serving dish size of your choice. A 9x13 is ideal. Smaller pans make more layers and a taller serving.