I know lots if folks are monitoring their carbohydrate intake. I ain't one of them. I've never met a pasta I didn't like. As a matter of fact, I've never met a potato I didn't like either. Please consider the following recipe. It has other redeeming factors like five good-for-you ingredients. Portion control and moderation is the key. I ate two portions when I wanted three.
Likewise the pasta salad is loaded with good, fresh vegetables and only lightly dressed. If you want, you can substitute rinsed and drained garbanzo beans for the pasta. I made it with the beans first. It's almost as delicious.
The very sinful fruit tart is redeemed by the fresh fruit. And the fact it is so rich, a very small piece satisfies even my sweet tooth. Depends on your conception of small.
Chicken and Pasta Casserole
12 ounces pasta of your choice, cooked al dente according to package directions
3-4 cups cooked chicken in bite size pieces
1 large carrot, quartered, then sliced
2 ribs celery, halved then sliced
1 small package sliced mushrooms
1/3 cup all purpose flour
1 cup shredded gouda, please do not substitute
Preheat oven to 375°. Spray a 9x13 baking pan with Pam. In a large Dutch oven, melt butter. Add onion, carrot, celery and mushrooms. Cook, stirring often, until all are crisp tender. Sprinkle flour over all. Cook and stir about one minute. Add broth, one cup at a time, stirring until smooth after each. Add half and half. Bring to boil. Reduce heat. Simmer 2-3 minutes. Add chicken and pasta. Transfer to the prepared pan. Sprinkle with gouda. Bake until golden and bubbly.
Italian Salad Dressing Mix
Note: All ingredients are dry.
1 tablespoon garlic powder
1 tablespoon onion powder
Whisk together and store in a jar with a tight fitting lid.
To use as a salad dressing:
2 fat tablespoons dry mix
Mix in jar with a tight fitting lid. Shake well. Set aside until salad is ready. Shake a few more times. Pour over salad.
Pasta Salad
1 pound bow tie pasta, cooked al dente according to package directions
1 red bell pepper, julienned or diced
1 yellow bell pepper, julienned or diced
1 small red onion, slivers or diced
2 small, firm zucchini, quartered then sliced
2 small, firm yellow squash, quartered, then sliced
2-3 small, firm cucumbers, halved then sliced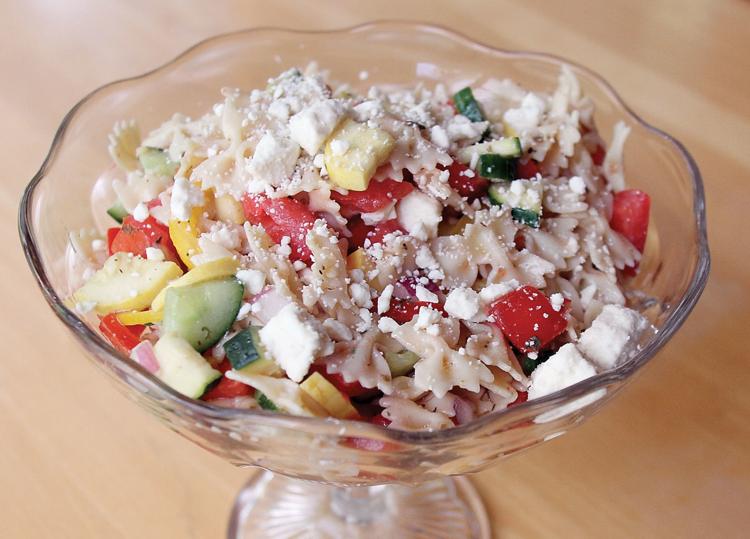 1 cup diced tomato, or cherry tomatoes, halved
1/2 cup chopped kalamata olives, optional
4-6 ounces crumbled feta cheese
Assemble all ingredients except feta in a large bowl. Pour dressing over all. Stir gently until well blended. Refrigerate until serving time. Garnish with feta just before serving.
Shortbread
Compliments of Ann Keiser
3/4 cup self rising flour
1 1/3 cups all purpose flour
Preheat oven to 400 degrees. Lightly spray an 8x8 inch baking pan with Pam. In a medium bowl, combine all the dry ingredients. Pour in butter and vanilla. Mix well. Spread evenly in the prepared pan. Bake until golden. Remove from oven. Score into squares and sprinkle with sugar. Cool
Fruit Tart
1 small package raspberries
1 cup sliced strawberries
3 rounded tablespoons corn starch
1 Symphony candy bar, chopped or chocolate chips
Whisk together sugar and corn starch. Add fruit and toss gently until well mixed.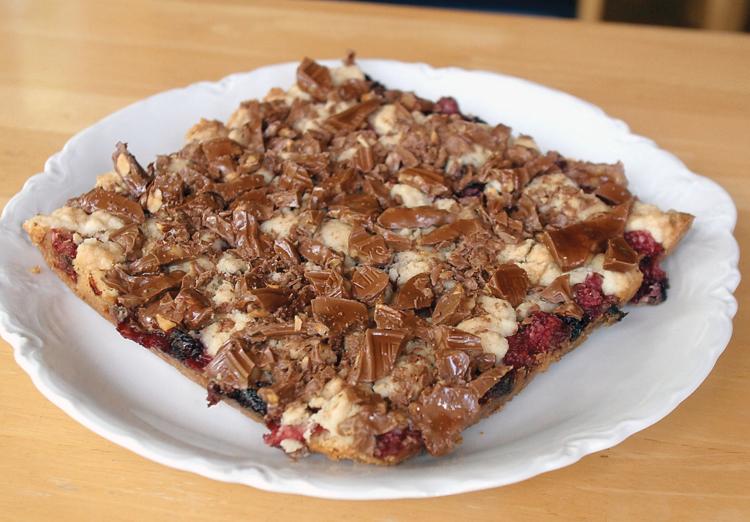 Make shortbread according to the recipe, dividing the dough according to the following instructions. Spray an 8x8 baking pan lightly with Pam. Press 3/4 or so of the dough in the bottom of the pan. Bake until lightly golden. Spread fruit mixture evenly over the baked crust. Dot the top with remaining dough. Bake until golden brown. Sprinkle generously with the candies. Return to the oven for a minute or two.