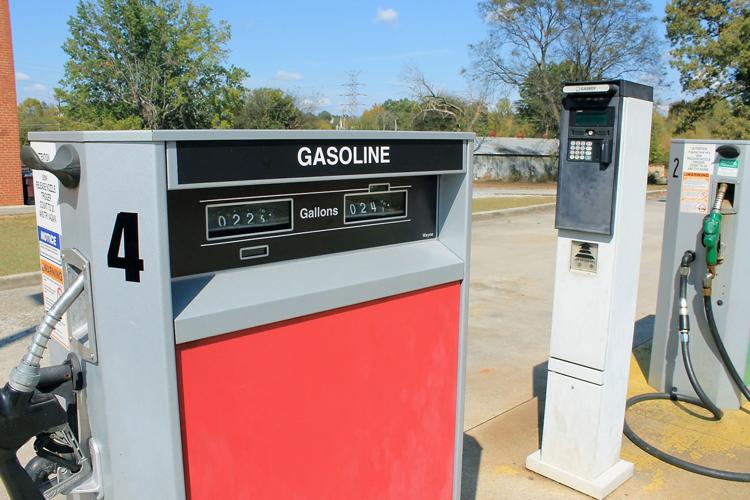 Waving goodbye to an underground tank that holds thousands of gallons of fuel, the city of Alcoa has adopted a system slim enough to fit in your back pocket: credit cards.
City Manager Mark Johnson announced in a city manager's meeting Friday that Alcoa is taking another step into a more technologically efficient arena of necessary spending. Traditionally, city vehicles have filled up at pumps next to the old firehouse on Springbrook Road.
But that has changed.
For the past three months, city vehicles have been using an Alcoa-issued credit card to buy gas instead of paying a visit to the pump.
Why?
Johnson explained during the meeting that it's a combined money-saving strategy that also gets rid of a liability.
"The analysis on that was, we either go to this system or … spend a half million dollars replacing our existing station," he said during the meeting.
Costs to repair and replace the current pump system would cost $481,000, according to Johnson's presentation notes on the new system.
The current tanks at the city pump station hold 10,000 gallons of gasoline and 4,000 gallons of diesel, the presentation showed. The city uses more than 200,000 gallons of fuel each year, split between entities that include public service, police and fire vehicles, but also schools and Parks & Rec vehicles.
Johnson said the tanks are pushing 30 years in age and there was even a project in 2009 that proposed replacing them over a three-year period.
It was cut due to the high cost and the city was running out of options, between the depreciation of the pumps, the repairs, the regulatory inspections and the danger of an aging and very flammable setup.
Positives and negatives
Credit cards represented a fluid solution to that stack of problems, Johnson indicated.
"How it works is, you can fuel at any station anywhere," he told gathered officials Friday. He showed a sample image of one of the cards, a WEX-brand Exxon Mobile card, which employees use by entering a six-digit pin number. They can save 4% if they use an Exxon Mobile station and another 2% if it's local, he added.
Cards are linked to vehicles and the city is extracting the data from expenditures to put into spreadsheets for later analysis.
The downside is the cost: approximately 20 to 25 cents more per gallon, by Johnson's estimate — though no state or federal taxes would be included in these purchases, he added.
But, compared to the replacement of the tanks, Johnson indicated the cost model was more favorable for the city. "All in all it's a great thing," Johnson said. "Bottom line: That extra cost we're paying would approximate what we'd have to pay per gallon if we spent half a million bucks buying a new (fueling) center."
However, though Alcoa would not have to worry about hundreds of thousands of dollars of loan debt for fixing the tanks in a single fiscal year, the new system may cost more over time, using rates from Friday's presentation.
At 22 cents a gallon more for Alcoa employees, gas would cost the city a total $44,000 in a single year, for example, provided they buy 200,000 gallons of fuel annually.
At this rate, it would take almost 11 years to reach $481,000 — the cost of fuel center replacement — in surplus expenditures from the credit card system.
Over 30 years at these rates, the city theoretically would spend $1,320,000.
Johnson also mentioned that, because fuel prices fluctuate, surplus costs could change. He also said that buying gas at local stations would mean fresher fuel and fresher fuel would mean cleaner fuel filters and less maintenance on vehicles.
Other tank expenditures include regular maintenance and inspections.
'A buried boat'
What happens to the tanks in the meanwhile?
"We're going to have to spend some money on closing that out," Johnson told officials.
He said that project may start this spring. Leaving them in is not an option if the city ever considers selling the land.
"You want to remove that because there's residual in the tank, even if you drain it," Assistant City Manager Andy Sonner said in an interview after the meeting.
He explained there is at least a minimal amount of gas in the tanks right now, 500 gallons. If it goes much lower than that, it could set off an alarm.
"They'll stay where they are with the fuel in them until it's time to get rid of them," Johnson said in an interview.
Until then, the city will have to keep an eye on them. Director of Public Works and Engineering Shane Snoderly said over time, the tank, full of air, could push above ground. "You don't want the tanks to float if that groundwater comes up," Snodderly said. "It's a buried boat."
Blount and Maryville
Johnson said Blount County also uses the credit card model. Officials for the county could not be reached for comment on the efficiency of their fuel-payment system.
No official action was taken in Alcoa's commission meeting to approve the move and no contracts were required, Johnson said.
Maryville spokeswoman Jane Groff told The Daily Times in an email that the city of Maryville still uses pumps.
"We replaced our system a couple of years ago, converting to above ground tanks in the process," Groff said. "We looked at a lot of scenarios, but the cost savings, operational efficiencies and other benefits of having our own outweighed the alternative."