One of America's oldest and largest gunmakers — Springfield, Massachusetts-based Smith & Wesson — is moving its headquarters and manufacturing operation to a 236-acre plot in Maryville, state officials said Thursday.
The move — which will begin in 2023 — will bring 750 new jobs to the county and represents a $125 million investment, the Tennessee Department of Economic and Community Development said.
Smith & Wesson was founded in 1852 and has been headquartered in Springfield since its inception.
There, it has a 575,000-square-foot manufacturing facility producing most of its products. It has other manufacturing facilities in Maine and Connecticut and a distribution center in Missouri.
The move to Partnership Park North, off Proffitt Springs Road near the McGhee Tyson runway, is part of a tectonic model shift for the company, whose principals announced in their own news release that they'd be closing two operations in Connecticut and Missouri as part of "consolidating" in Tennessee.
As of May 31, the company had just more than 2,240 employees, most full time. However, 1,000 employees will remain in Springfield where — though the headquarters will be moved — some manufacturing operations will continue.
Some current employees will be given the option to move to Blount and those who choose not to will be offered enhanced severance and job-placement services.
"The strong support we have received from the state of Tennessee and the entire leadership of Blount County throughout this process combined with the quality of life, outdoor lifestyle and low cost of living in the Greater Knoxville area has left no doubt that Tennessee is the ideal location for Smith & Wesson's new headquarters," Smith & Wesson Brands Inc. CEO Mark Smith said in a statement. "We would like to specifically thank Governor Lee for his decisive contributions, and the entire state legislature for their unwavering support of the 2nd Amendment and for creating a welcoming, business-friendly environment."
Unlike Massachusetts, Tennessee is one of 28 right-to-work states, meaning workers can't be forced to join unions.
In 2019, the Blount County Commission passed a resolution declaring Blount a "Second Amendment Sanctuary." In response to questions about what "sanctuary" means, Commissioner Steve Mikels told The Daily Times two and a half years ago that the language simply mirrors what is being used in Western states in communities opposed to "red flag laws," such as bills that died in the Tennessee General Assembly in 2019.
The intent of the resolution was to send a message to legislators that citizens are opposed to those bills, Mikels said. He and other supporters of the resolution said current laws were sufficient to deal with people who may pose a danger.
In 2021, Smith & Wesson had a milestone fiscal year, surpassing $1.1 billion in sales, including 2.6 million firearms shipped.
According to sources close to the Blount deal, Smith & Wesson had considered several other Tennessee locations for the move, including Knoxville — and it only recently made the decision to move to Blount.
Economic development leaders have been trying to recruit a firearms manufacturer to the area for a decade. Two ammunition/firearm manufacturing deals brokered by the Blount Partnership were announced in recent years but fell through.
Advanced Munitions International (AMI) was going to build its $553 million "global headquarters" at Partnership Park North. That facility was supposed to open in 2018.
It never happened. AMI missed its October 2017 groundbreaking deadline and the project went offline.
More recently, pistol-maker SCCY in 2020 reneged on plans to establish manufacturing facilities off Big Springs Road in Maryville.
Praised by numerous leaders, legislators and mayors, the Smith & Wesson project appears much more of a done deal, with a ground-breaking set for late October.
"The collaborative efforts between the Blount Partnership, the state of Tennessee, Blount County and the cities of Maryville and Alcoa and many others have added another solid company in Smith & Wesson to our already bustling economy," Maryville Mayor Andy White said in a statement, echoing statements from other leaders, including Alcoa Mayor Clint Abbott, state Sen. Art Swann, Blount County Mayor Ed Mitchell and others.
Gov. Bill Lee also commented on the move, though he didn't speak publicly Thursday. "Our pro-business reputation, skilled workforce and commitment to the Second Amendment make Tennessee an ideal location for firearms manufacturing," Lee said in a statement. "We welcome Smith & Wesson to the Volunteer State."
Company leaders said there have been ongoing concerns about federal- and state-level regulation on gun sales and manufacturing — major contributors in the relocation decision.
Massachusetts is known to have some of the country's strictest gun laws.
Set to break ground by October, the project will include a large campus at Partnership Park North.
Smith & Wesson reportedly may buy the land for only $1 — part of a larger incentive package that includes seven-year tax abatement that could result in about $8 million in company savings, according to sources who could not be named because they were not authorized to speak about the deal.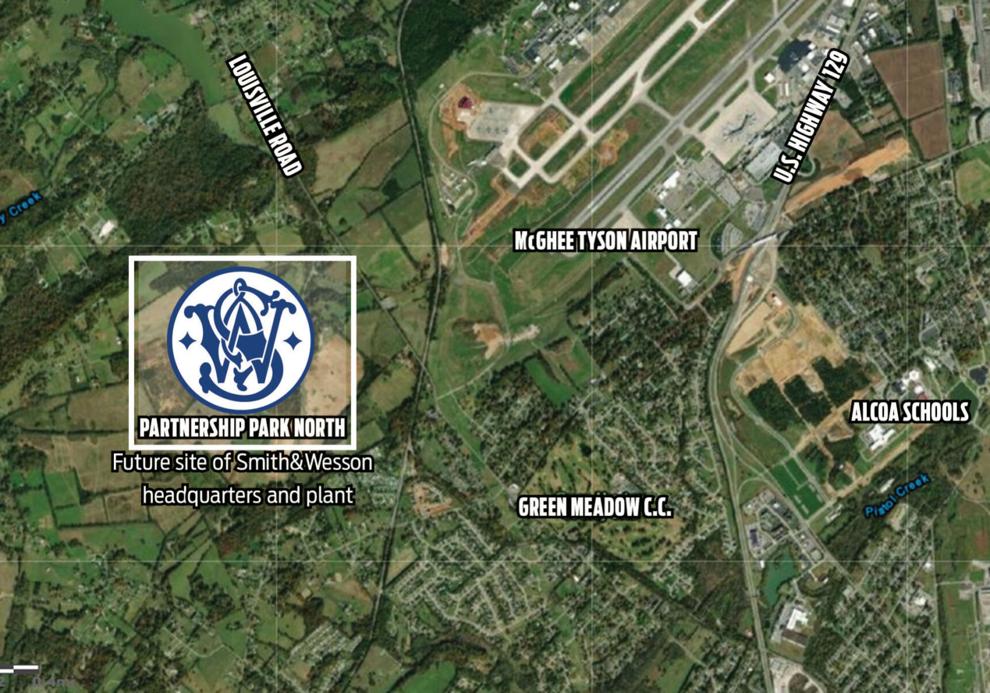 The land is owned by the Blount County Industrial Development Board (IDB), which is made up of representatives from Maryville, Alcoa and the county. Land sales and tax revenue on IDB land is split 30%-30-%-40% between Alcoa, Maryville and Blount County governments, respectively.
Currently, a coordinating committee has been formed by local governments to accommodate a kind of land swap in which Partnership Park North will change hands from Alcoa — in whose city limits it's currently bounded — to Maryville.
Leaders said in interviews for a recent article about the land swap that its purpose was to allow Maryville to connect city sewer lines to the site.
The Smith & Wesson deal joins the recent successful industrial recruitment of Amazon, whose 1-million-square-foot Project Pearl is being constructed near Pellissippi Parkway and U.S. Highway 129.
Blount Partnership and its CEO, Bryan Daniels, played a major role in recruiting Smith & Wesson and are anticipating an economic upturn in the near future that could mitigate some of the labor fluctuations Blount has experienced.
"We're excited about this opportunity for the community," Daniels said. "We have been looking for a replacement for the jobs lost with Ruby Tuesday (which has filed bankruptcy) and ALCOA the company. We look forward to those people having jobs or the possibility of jobs with Smith & Wesson."